People started applying permanent drawings on the body from time immemorial. They used the most primitive tools for such work and did not think about maintaining sterility. Today, anyone who wants to become a tattoo artist might purchase the best beginner tattoo kit, which will allow you to work with any techniques and be safe at work. My best choice is Dragonhawk Mast. Each product of this kit, from needles and tips to the machine, meets international quality standards. In this review, I will tell you about 12 tattoo kits, each of which you can use for learning, practicing, and working.
Product
Title
Dragonhawk Tattoo Machine Kit Rotary Tattoo...
Dragonhawk Complete Tattoo Kit for Beginners...
Solong Tattoo Pen Kit Rotary Tattoo Gun...
Prime
Pros
Quiet work and less vibration
Product
Title
Dragonhawk Tattoo Machine Kit Rotary Tattoo...
Prime
Pros
Quiet work and less vibration
Product
Title
Dragonhawk Complete Tattoo Kit for Beginners...
Prime
Product
Title
Solong Tattoo Pen Kit Rotary Tattoo Gun...
Prime
12 Best Beginner Tattoo Kits
1. Dragonhawk Mast: Best Beginner Tattoo Gun Kit With Rotary Machine
Dragonhawk Tattoos has long established itself as a reliable companion for tattoo artists worldwide. From the first years of its work, it set itself the goal of proving that it is possible to make a high-quality tattoo with the help of affordable means.
Speaking specifically about this set, it is my favorite, and I love tattooing with it. A team of researchers and designers had been working on this rotary tattoo machine kit for a year before its release, striving to create something special for us. The special version has a foot pedal, a powerful 10,000 RPM motor, and an improved gearbox. Thanks to this, the device works quietly and without vibrations. The unit has a light and comfortable Mast pen, which I have used to create many incredibly accurate works in various techniques and styles. The curved magnetic tip allows me to work neatly around corners. Needles are made of medical grade steel, 20 cartridges of Wjx 100% E.O Gas Sterilized.
Pros:
Cons:

Easy to install and use;
Special ergonomic design;
Custom Japanese motor;
Quiet work and less vibration;
Effort-saving;

Constant bending might damage the power cord over time;
2. Dragonhawk Pro Complete: Best Starter Tattoo Kit With 2 Coil Machines
This double coil tattoo machine kit is probably the most generous offer of Dragonhawk, designed with customer feedback. The set contains two machines, allowing to hone both lining and shading. I once gave this model to my student Andrew, and he was delighted. Let's see what else is hidden inside the case.
The set contains everything necessary for easy and quick work. In particular, you will find a reliable power supply, clip cord, foot pedal, pens, and 20 stainless steel needles with a long polished cone. Andrew boasted that they provided excellent puncturing. The company also cared for 7 inks and cups, training skin, transfer paper, etc. Such a set should be a successful start on the path of a tattoo artist.
Pros:
Cons:

Lining and shading machines;
7 inks set;
Easy to use;
Additional items included.

The ink could have been of better quality;
Not recommended for large jobs due to the limited settings.
3. Solong Tattoo Pen: Best Start-Up Tattoo Kit With Budget Price
Solong Tattoo has been on the market for 15 years, and since then, the brand has learned everything about the needs of experienced masters and amateurs. The company follows industry trends and produces modern equipment at affordable prices. This rotary tattoo machine kit includes the latest EN02D needle cartridge. I was lucky enough to use this device in my friend's studio and was pleased with the result. What made this set so famous?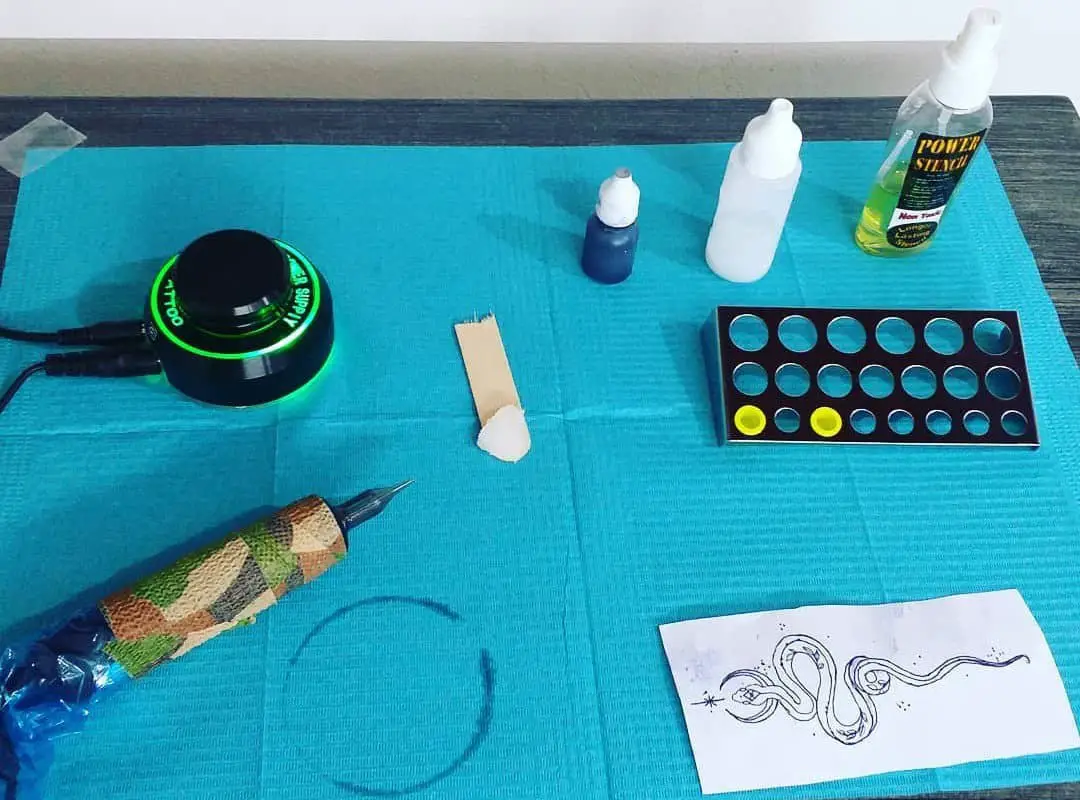 First, I appreciate the powerful 10-W Taiwanese motor, which works surprisingly quietly. This model is wireless; I could work fruitfully for 2-3 hours with a full charge. I liked the tattoo pen kit, made of aviation aluminum alloy and anodized, CNC-machined. The set contains 50Pcs cartridge needles, which are pretty enough for the first steps in tattooing.
Pros:
Cons:

User-friendly;
Wireless model;
Fast charging;
Budget price.

If you switch the voltage during charging, the machine might turn off.
4. Dragonhawk K2 Pen Kit: Best at Home Tattoo Kit for All Tattoo Types
This is another model from the leading brand in the body art world about which I have heard a lot of positive feedback from my fellow newcomers. The kit allows you to apply lining and shading and is intended particularly for beginners. The brand has traditionally equipped the set with its best developments.
Familiar users note the special power of the Mast motor, the ergonomic gun made in the form of a pen, and the LED power source, which protects against short circuits. The innovative gearbox guarantees quiet operation: none of my colleagues complained about vibration. Cartridges with sharp disposable needles of different sizes allow you to practice different drawings. This set might be considered a start-up tattoo kit.
Pros:
Cons:

Original design;
Suitable for all tattoo types;
Comfortable pen for easy control;
Stencils for beginners.

Needles might clog quickly;
The foot pedal is not of high quality.
5. Complete Tattoo Kit 2: Best Beginner Tattoo Gun Kit With 20 Inks
This is a budget version of the coil tattoo machine kit, but it has everything you need for tattooing. My acquaintance, a tattoo artist, got his first experience with this model, and today he can fully boast of his professional level.
The set includes two machines, both for 10 wraps, 20 colored inks, and a foot pedal. The power supply unit has an LED display showing essential indicators, which is very convenient. If you are burning with the desire to try yourself in tattoo art, I recommend considering this tattoo machine kit for your first creative experiments.
Pros:
Cons:

Two machines in a set;
20 colored inks;
Affordable price.

The ink might seem quite thin;
Guns might overheat.
6. Hawink Tattoo Kit: Best Rotary Tattoo Machine Kit Without Wire
Hawink, established in 2008, produces state-of-the-art tattoo accessories. It was the first in the world to develop wireless tattoo machines and power supplies, revolutionizing the industry. This Corn tattoo machine is powered by a battery that guarantees more than 3 hours of operation on a full charge. Thanks to that, I often take this tattoo machine kit to away workshops.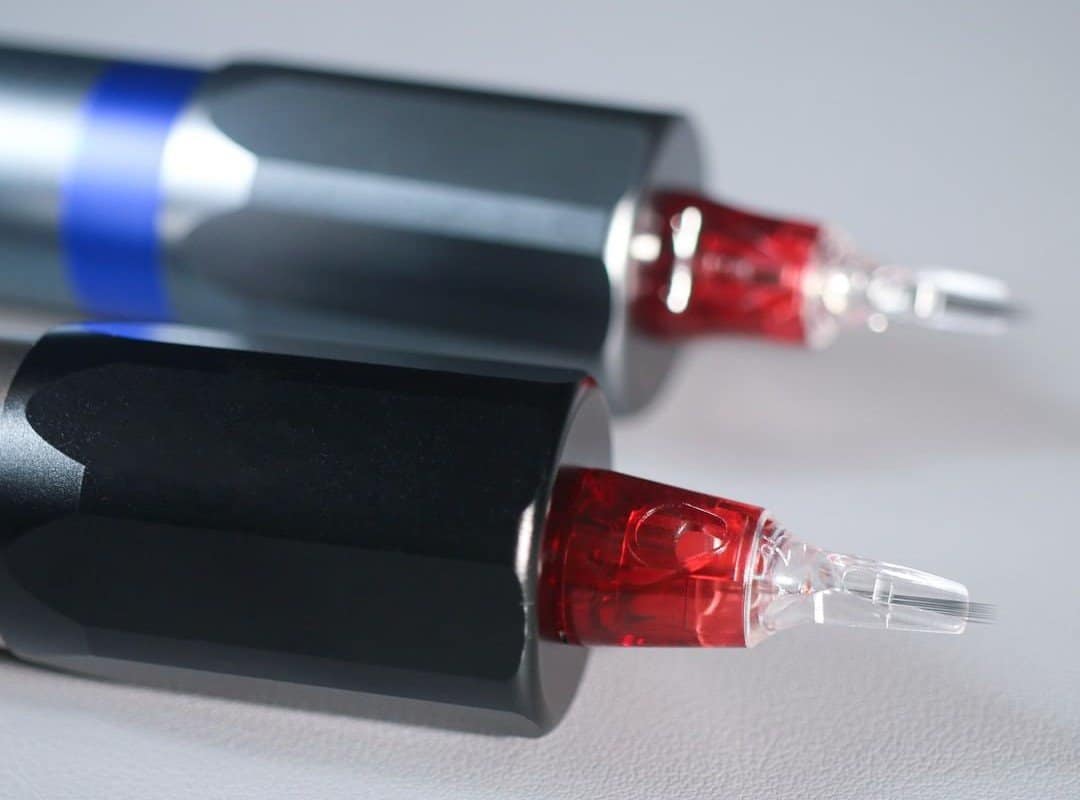 The strong motor can withstand the maximum operating voltage of 11 V. For beginners, this model is likely to be appreciated due to its new design. More than once, I was convinced that working with this pen is more convenient than with traditional ones. The set contains a 20-pcs cartridge. Needles are 4 mm long, but the machine integrates with all types of needles.
Pros:
Cons:

Easy to use;
Powerful engine;
Wireless;
More than 3 hours of work when fully charged.

Sometimes, holding a battery at a certain angle is necessary for good work.
7. Stigma Tattoo Pen: Best Starter Tattoo Kit With 2 Batteries
This brand is a leading supplier of tattoo equipment that is committed to meeting the needs of the entire tattoo community for quality and safe tools. My friend, who owned a tattoo studio, purchased this rotary tattoo machine kit for his new employees. With it, they could do lining and light shading.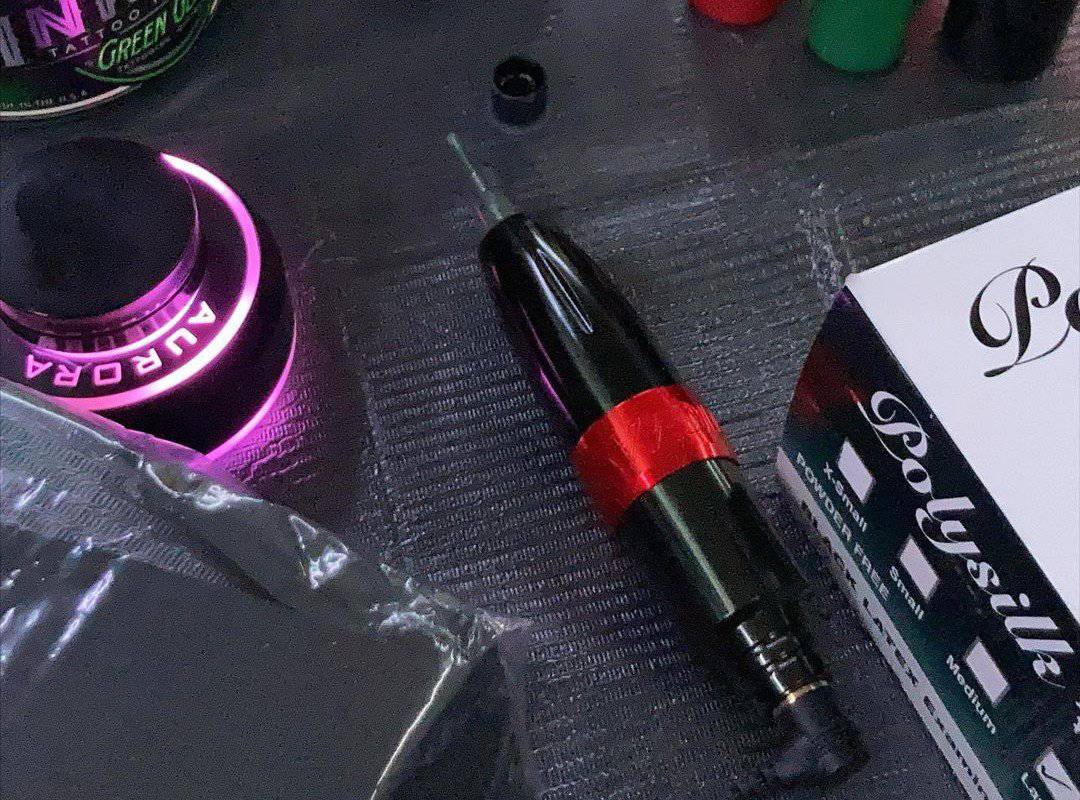 Masters highlight that the gun works quietly and without vibrations due to the efficient Japanese motor and gearbox. The spectacular rose gold-colored pen is made of a space aluminum frame. The set includes 20 of the most commonly used E.O Gas Sterilized needles and two batteries. While the master is working with one, the other is charging. The machine's connection with the battery is strong, ensuring stable operation.
Pros:
Cons:

2 batteries;
Stable drive system;
Silent operation.

The pen might change color to silver over time.
8. Hawink Tattoo Machine: Best at Home Tattoo Kit With Stylish Suitcase
I have already mentioned this brand in the review of the best beginner tattoo gun kit. Now I recommend paying attention to another of its offerings, this cordless rotary kit. All elements are stored in a stylish case, which won me over.
I tested this model and was very satisfied with the result. When tattooing, I made liners and shades effortlessly. The light aluminum alloy pen felt good in the hand and hardly vibrated. The set contains a cartridge with 20 needles. The gun runs due to a strong motor powered by a 1500 mAh lithium battery, which might serve the machine from 3 to 6 hours. I made a small drawing without recharging.
Pros:
Cons:

Easy to use;
Wireless model;

1500 mAh lithium battery.

The connection between the gun and the battery might be loose at some positions.
9. TATELF G12: Best Start-Up Tattoo Kit for Training
In its name, the brand encoded the expression "Tattoo Elf." The company's mascot is designed to help tattoo artists create their masterpieces using branded accessories. Speaking of this rotary tattoo machine kit with a foot pedal, it is designed for newcomers. My student Jessica bought it for practical classes and shared her positive impressions.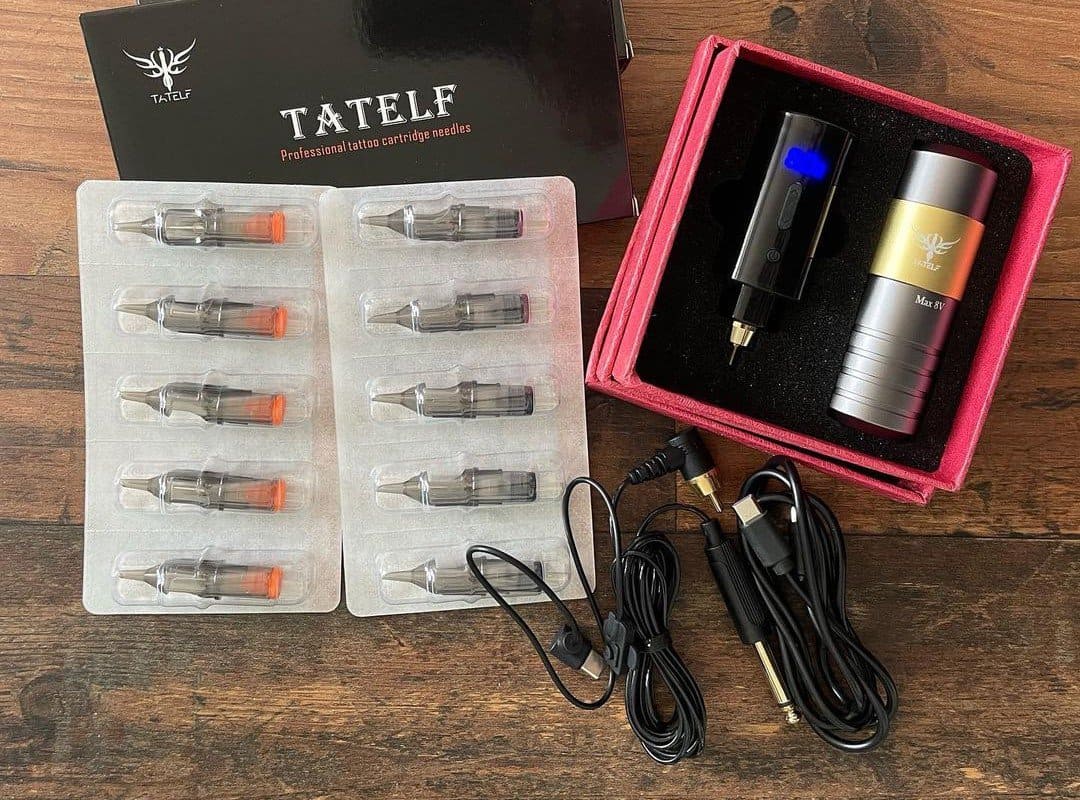 First, the case has everything you need for training and is surprisingly easy to use. The lightweight aircraft-grade aluminum pen is designed to give artists the maximum control over the process. Jessica gets to hone her shading, coloring, and lining skills. Artificial skin and 6 bottles of ink are provided for training. A powerful motor and an improved transmission system are responsible for energy and silence. This machine is worth considering as a starting option for learning the basics of tattooing.
Pros:
Cons:

Ergonomic;
Lightweight;
Powerful and smooth;
Quiet and have less vibration.

The ink is not designed to work with natural skin.
10. Carver by Pirate Face Tattoo: Best Tattoo Kit With 4 Machine Guns
The brand appeared on the global market 17 years ago as a supplier of the latest tattoo products at affordable prices. It visits factories to find the one that meets its quality standards. This approach gives the client the best choice in one place. I was lucky to see this start-up tattoo kit in action and hear feedback about it.
A friend of mine decided to learn the art of tattooing and bought this kit. The reason was that the set came with two rotary and two coil machines. He liked that it contained all the consumables, sterilized and packaged, and had a detailed manual. You will find 7 ink tubes, 50 needles, 27 disposable nozzles, and 8 steel ones, as well as other accessories in the set. The machines are easy to set up and use.
Pros:
Cons:

Two rotary and two coil machines;
Instructional book and DVD;
7 inks from Radiant Colors;
User-friendly.

The power supply unit is not always stable.
11. Grinder by Pirate Face Tattoo: Best Start-Up Tattoo Kit With Full Accessories Set
This is another variation of the tattoo machine kit for beginners from the Pirate Face Tattoo team. It contains two rotary and two coil machines, a tattoo pen kit, and everything you need to take your first steps in body art. I have such sets in my studio, and students successfully hone their skills with these guns.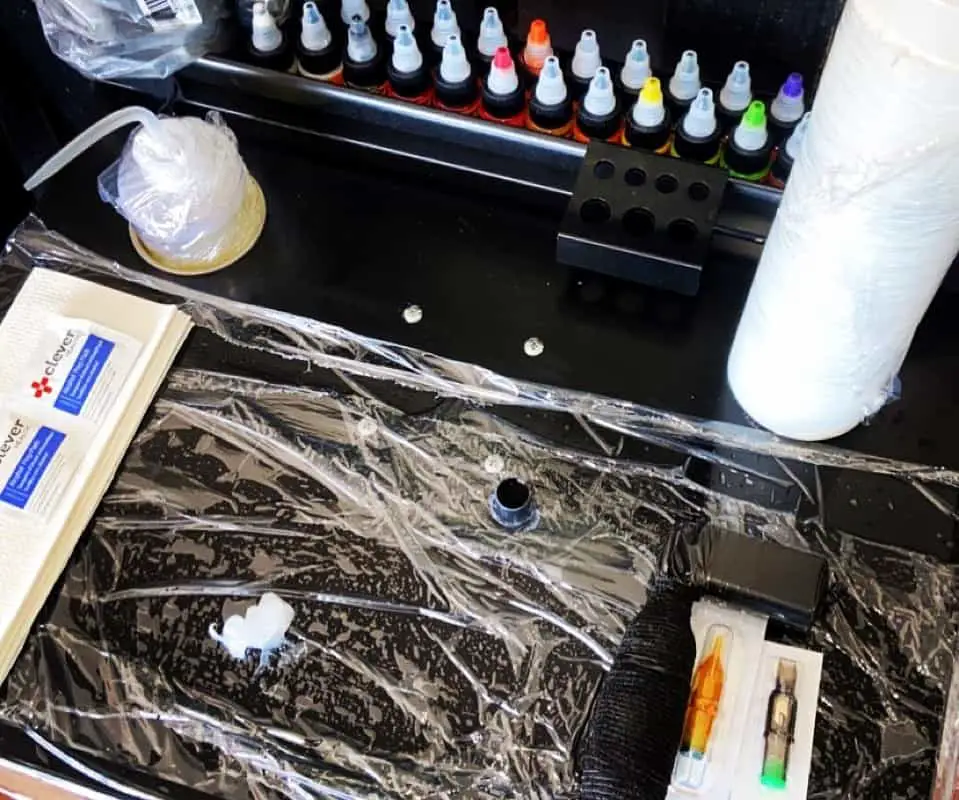 Each machine might be customized to match your needs, either lining or shading. The standard power supply unit has an LCD, ensures smooth operation of the guns, and comes with a foot pedal. Students do not have to worry about ink, as the set includes 7 bottles from Radiant Colors. The kit consists of accessories, from tips to artificial skin. A bonus of the set is the book "Basic Fundamentals of Modern Tattoo" by Charles Jordan and an instructional DVD. This kit will give you the basic materials to start your tattoo journey.
Pros:
Cons:

Two rotary and two coil machines;
Many basic materials for work;
Easy setup;
Tattoo instructional book and DVD.

The ink could have been of better quality.
12. Dragonhawk 366H: Best Beginner Tattoo Gun Kit With Slim Pen
The rotary tattoo machine kit by Dragonhawk wraps up my review. I took it for a while from my colleague and was impressed by the quality and comfort. The included Mast tour machine is equipped with a custom coreless motor for at least 3,000 hours of operation. The gun mimics the shape of a pen and weighs 0.18 pounds.
The manufacturer has thought through every detail: The machine has an innovative mechanism that provides a good direction and, at the same time, soft impact. I could quickly and accurately do the lining, black and gray shading, and complete coloring while enjoying the tattooing process. The set includes ink, needles, a power source, and a foot pedal. It might be a good choice for a start-up tattoo kit.
Pros:
Cons:

Mast custom coreless motor;
Machine with pen-like design;
Lightweight;
The possibility to work in different styles and techniques.

At a voltage of 10V, it might work loudly.
Beginner Tattoo Kit Buyer's Guide
If you want to master the art of tattooing, you should know which materials and knowledge you need for training and further work. I will tell you about the basic tools, including the best starter tattoo kit a tattoo artist should have.
Can anyone become a tattoo artist?
The work of a tattoo artist is easy and carefree only at first glance. Let's consider three elements of this activity that you should know about before choosing this profession.
Many people are worried about whether they can do tattooing without the ability to draw well. It depends on which kind of pictures you want to create. Usually, those who dream about body art already have specific artistic skills, such as good color perception, developed fine motor skills, eyesight, and creativity. Therefore, you do not have to be a prominent artist to create simple drawings on the skin. It is enough to learn to use the tools skillfully, and you will probably be able to work with stencils and transfer small ready-made sketches to the body.
However, if your goal is to create professional tattoos, you should consider an art school or a fine art course. For example, to make portraits, you should be oriented in anatomy; to create realistic black-and-white pictures, you should be able to shade. Experienced masters might draw sketches or create a tattoo directly on the client's body (freehand), as artists paint a picture on canvas.
It is one thing to draw beautifully on paper and another to design a picture with an electric tattoo machine on someone's body. To prevent mistakes, it is necessary to understand the functions of each element of the tattoo machine kit and get used to the gun's weight and vibration. To learn this skill, you should practice drawing on curved surfaces like fruits and vegetables, or faux skin. The best option to develop skills might be to practice next to an experienced master as a student or assistant.
In most states of the USA, you have to get a document confirming your knowledge and skills to work as a tattoo artist. Requirements vary from state to state; usually, you have to prove your internship and pass a written exam. However, if you plan to work as a tattoo master in New York City, you have to complete a three-hour Infection Control Course. The received license must be periodically updated.
The best starter tattoo kit: what is inside?
When choosing the first kit for tattoo experiments, you should pay attention to the elements it contains. I will list the things that are desirable to have in the starter kit:
Tattoo machine and a tattoo pen kit;
Holder for damping vibration;
Needles or cartridges with needles;
Tips inside which the needle moves;
Bandage elastics and sealing rings for fixing the needle;
Power supply unit and foot pedal;
Clip-cord, connecting wire for supplying voltage from the power supply unit and the pedal;
Pigment (ink);
Containers for dispensing ink;
Transfer paper for replacing the contour to the skin and a tattoo marker;
Artificial skin and stencils for training;
Barrier protection for the machine and the artists, disinfectants.
Types of tattoo machines
Modern masters work with two types of machines: rotary and coil ones. Read on to learn more about their pros and cons.
Rotary tattoo machines
These machines have an electric motor that moves the needle up and down.
Pros:
Low weight;
Quiet operation with less vibration;
Adjustable individual settings;
The possibility of lining and shading with one rotary tattoo machine kit.
Cons:
The need for multiple passes over the same area to produce a clear color;
Longer work execution time;
The difficulty of ensuring a good result on the skin behind wrinkles and stretch marks.
Coil tattoo machines
The electromagnet is responsible for its operation. An electromagnetic current passes through the coils to retract and release the armature bar, which inserts and retracts the needles.
Pros:
Higher speed and stability of work;
Productivity;
The possibility of adjusting the amplitude of the movement of the needle and the intensity of blows;
High-quality details and outlines.
Cons:
Noise and strong vibration;
Greater weight;
To create lining and shading, you need to purchase different machines or a tattoo machine kit with both types.
Start-Up Tattoo Kit: FAQ
There is not much knowledge about the business you want to do. Here I will answer the most common questions about the best starter tattoo kit.
What is the best tattoo kit for beginners?
A good tattoo kit for beginners might contain the accessories and consumables necessary to familiarize yourself with the process of work and training. The essential items of the equipment are a tattoo machine (rotary or coil), ink, and needles.
What do you need for a beginner tattoo?
You should have basic artistic and technical skills and a tattoo machine kit to create your first tattoo. You might also require to get a license, depending on the city's or state's laws where you live.
How much does a tattoo kit cost?
The price of a start-up tattoo kit depends on the number and quality of its accessories. For training, you are free to choose both more affordable options and positions in the middle and higher price range.
Take Your First Steps in Tattooing
With the development of technology and the skill of masters, tattoos have reached a new level. Now, with the help of mechanical devices, modern inks, and the finest needles, body artists create masterpieces. If you want to join the tattoo community and seek your first tattoo kit, I highly recommend looking into the Dragonhawk Mast Rotary Machine. With artistic knowledge and technical skills behind you, working with quality tools, you might learn to make beautiful works step by step.
What attracts you to the profession of a tattoo artist? Which kind of tattoo do you dream of getting first? Share your story!